Naipu ZG
series pumps are cantilevered,horizontal,centrifugal slurry pumps. They are used international advanced solid-liquid two-phase flow theory and were designed using the Minimum-Wear Principle. The flow parts of this pumps are suitable for the flow of state media for it's set shape, which reduces hydraulic loss of eddy and impact, both in pump and along the pipeline; so reduced friction of flow parts, lower noise and vibration of the pump translates into improved hydraulic efficiency.
Typical Applications
---
Electric Power
Constructional Material
Mine Coal
Coal washing
Sand Reclamation
Sugar Beet
NP-ZG Slurry Pump Construction Component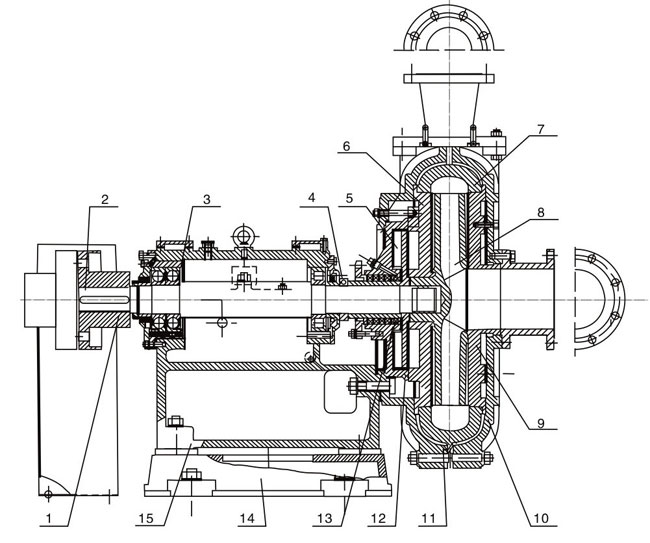 Main Part Number At The Drawing

1 Coupling
2 Shaft
3 Bearing Housing
4 Disassembly Ring
5 Expeller
6 Rear Liner Plate
7 Volute Casing
8 Impeller

9 Front Liner Plate
10 Front Casing
11 Rear Casing
12 Stuffing Box
13 Water Seal
14 Base
15 Support
Materials of Construction

VOLUTE

IMPELLERS

BASE

EXPELLER

EXPELLER RING

SHAFT SLEEVE

SEALS

Standard

High Chrome Alloy

High Chrome Alloy

Cast Iron

Chrome Alloy
or
SG Iron

Chrome Alloy
or
SG Iron

SG Iron

Natural Rubber

Options

SG Iron

SG Iron

Mild Steel
Fabricated

SG Iron

SG Iron

EN56C
Ferralium
Hasteloy C
Ceramic
Stellite
Chrome Oxide

Nordel
Neoprene
Viton
Butyl
EPDM
ZG SLURRY PUMP SELECTION CHART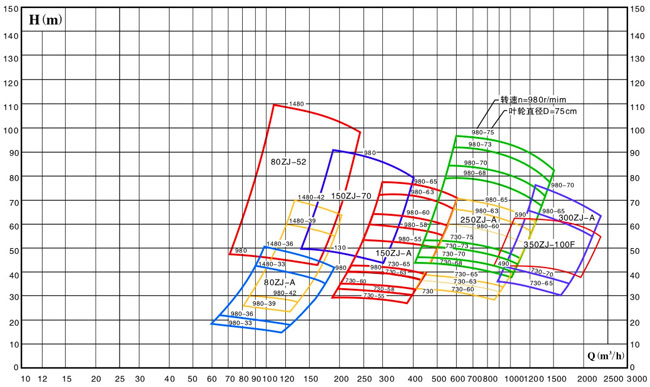 Note:Approximate performance for clear water,to be used for primary selection only.
ZG SLURRY PUMP PERFORMANCE PARAMETERS