Sand gravel pumps applied in coal washing
Coal washing sand gravel pumps/delivering slurries in mining gravel pumps/dredging in dredger pumps/river sand dredger gravel pumps/gravel pumps/mining slurry pumps
Features
1.The G series sand and Gravel Pump is a single-suction Slurry Pump that allows the slurry to be sucked in from only one suction side.Available with one impeller,the single-stage horizontal cantilever pump is widely used in dredging,mining and mineral processing industries.
2.A typical feature of this sand and gravel pump is its one-piece case.Other desiable features include the generous passage and abrasion-resistant wet-end parts made from high chrome.
3.Shaft seal options:packing gland seal,expeller seal and mechanical seal.
4.The discharge outlet has 8 positions at 45 degree intervals that can be selected to meet the installation and application requirements.
Advantages
1.Optimized slurry pump system layout simplifies maintenance operation,ensures long service life,and suit the pump for heavy duty tasks of pumping slurries with large solids.
2.One-piece case and wear-resistant hydraulic parts are easy to replace and repair.
3.Wide flow passage allows a large volume of slurry to pass.The sand and gravel pump is specially designed to handle high-abrasion applications that ordinary pumps can't even attempt.
4.The pump head is fixed to the mounting base by a few bolts.Users can adjust the clearance between the impeller and suction liner from underneath a bearing pedestal.
5.Shaft seal options:packing gland seal,centrifugal seal and mechanical seal.Users can easily replace one type of seal with another in order suit the specific pumping application.
Hydraulic Modeling
Wet-end components are cast of hard metal or polyurethane. They are able to maintain good hydraulic performance even when the Dredging Pump is subject to severe wear.This helps the sand and gravel pump achieve optimal levels of pumping efficiency for an extended period,3-vane impeller improves the pump's ability to pass the slurry.
Shaft Seals
Packing Seal
As one of the most commonly used seals for rotating shafts,the gland seal can come with low-flush or full flush arrangement which uses flushing water to prevent media from escaping the pump housing.This kind of seal is suitable for use in almost all pumping applications.In situations where corrosive solids or high temperature might be encountered,Teflon or aramid fiber is used as packing material for the gland.To further increase the shaft's resistance to abrasion,a ceramic coated shaft sleeve would be used.
Centrifugal seal-expeller
The combination of impeller and expeller creates the pressure needed to seal against leakage.Together with the gland seal or lip seal which is used as the shut-down seal,this type of seal can handle sealing requirements for applications where full-flush gland seal is impractical due to lack of water on the site,or sealing water is allowed to enter inside the pumping chamber to dilute the slurry.
Mechanical seal
Advances in sealing technology allows us to create a mechanical seal that ensures zero leakage. Catridge type mechanical seal facilitates installation and replacement.Other types of mechanical seal are among options to suit the sand and gravel pump for various pumping applications.We also utilize special ceramic and alloys of high strength and hardness on parts that are subjected to friction.Unique design of and seamless fit between the mechanical seal and seal chamber provides excellent resistance to abrasion and shock that ensures its effectiveness under the toughest conditions.
NP-G Construction Drawing--
Main Part Number At The Drawing

003:Base

005:

Bearing Assembly

132:Intake Joint

Discharge Joint

130:Discharge Flange

Intake Flange

013:Cover Plate

131:Bowl
137:Impeller
041:Back Liner
135:Door Clamp Ring
134: Adapter Plate Clamp Ring
124:Volute Cover Seal
Materials of Construction

VOLUTE

IMPELLERS

BASE

EXPELLER

EXPELLER RING

SHAFT SLEEVE

SEALS

Standard

High Chrome Alloy

High Chrome Alloy

Cast Iron

Chrome Alloy
or
SG Iron

Chrome Alloy
or
SG Iron

SG Iron

Natural Rubber

Options

SG Iron

SG Iron

Mild Steel
Fabricated

SG Iron

SG Iron

EN56C
Ferralium
Hasteloy C
Ceramic
Stellite
Chrome Oxide

Nordel
Neoprene
Viton
Butyl
EPDM
NP-G GRAVEL PUMP SELECTION CHART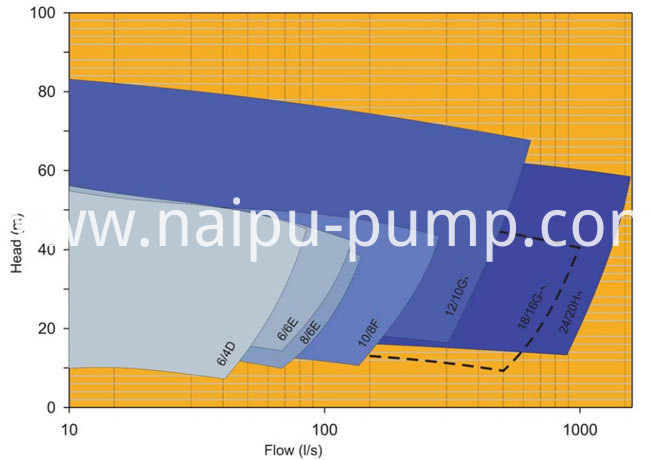 NP-G SLURRY PUMP PERFORMANCE PARAMETERS
| | | | | | | |
| --- | --- | --- | --- | --- | --- | --- |
| Model | Flow(m3/h) | Head(m) | Speed(r/min) | Efficiency(%) | NPSHr/m | Max permissible particle size/mm |
| 6X4D-NP-G | 187-36 | 7-51 | 1400-600 | 30-58 | 1.5-3.7 | 82 |
| 8X6E-NP-G | 576-133 | 10-48 | 1400-800 | 60-54 | 1.2-4.2 | 127 |
| 10X8F-NP-G | 930-216 | 11-44 | 940-500 | 65-34 | 3-7 | 178 |
| 12X10G-NP-G | 1512-360 | 11-58 | 850-400 | 70-50 | 1.5-6 | 220 |
| 14X12G-NP-G | 3168-522 | 9.5-66 | 700-300 | 68-60 | 2-8.5 | 241 |
| 16X14TU-NP-G | 3024-900 | 14-45 | 500-300 | 70-50 | 3.5-6.5 | 254 |
| 10X8F-NP-GH | 1091-324 | 19.2-56.5 | 800-500 | 72-60 | 1.5-5 | 180 |
| 12X10G-NP-GH | 2232-612 | 28-77 | 700-450 | 73-60 | 1.5-8 | 210 |
Coal washing sand gravel pumps/delivering slurries in mining gravel pumps/dredging in dredger pumps/river sand dredger gravel pumps/gravel pumps/mining slurry pumps
NP-G Gravel Pump Photos

Workshop Photos: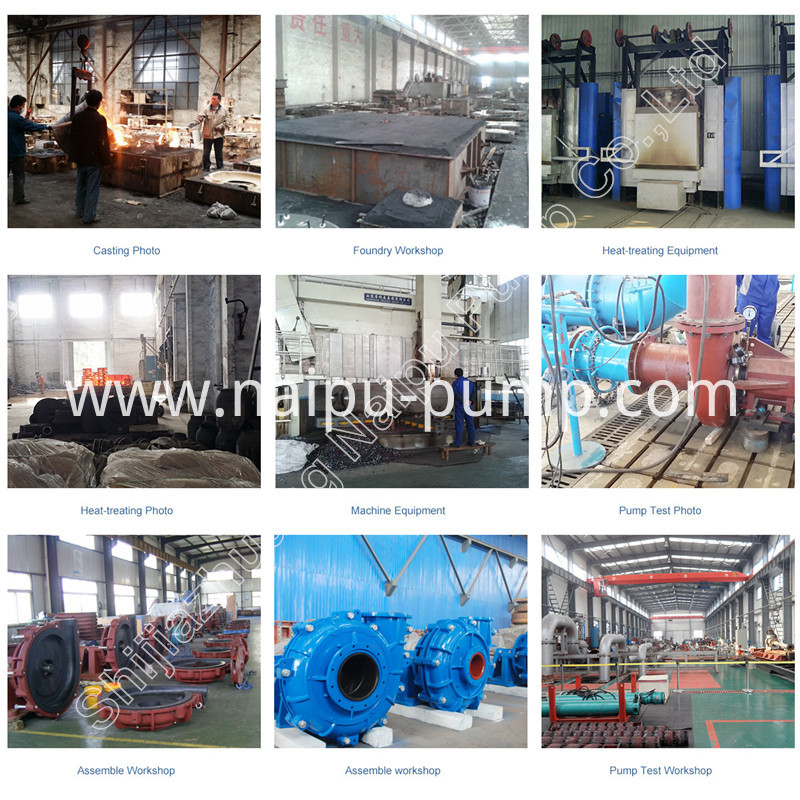 Quality Control: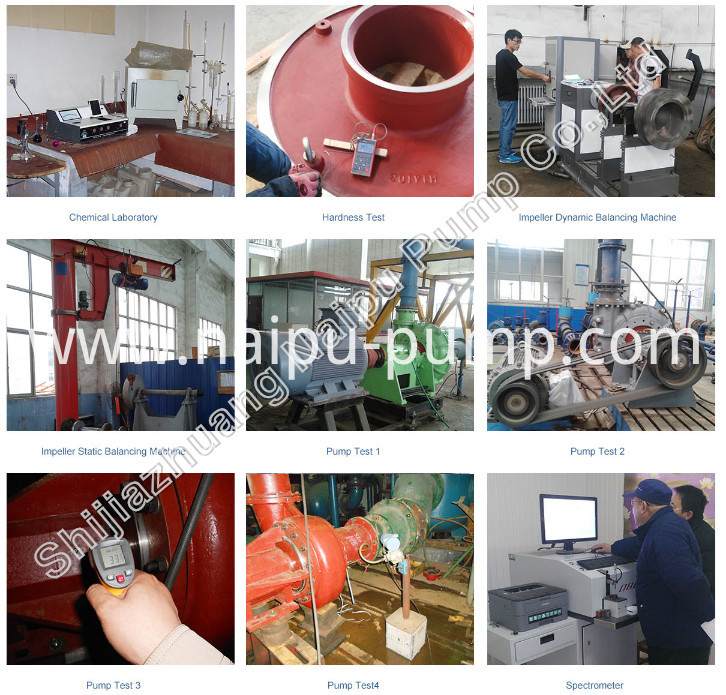 Working At Site: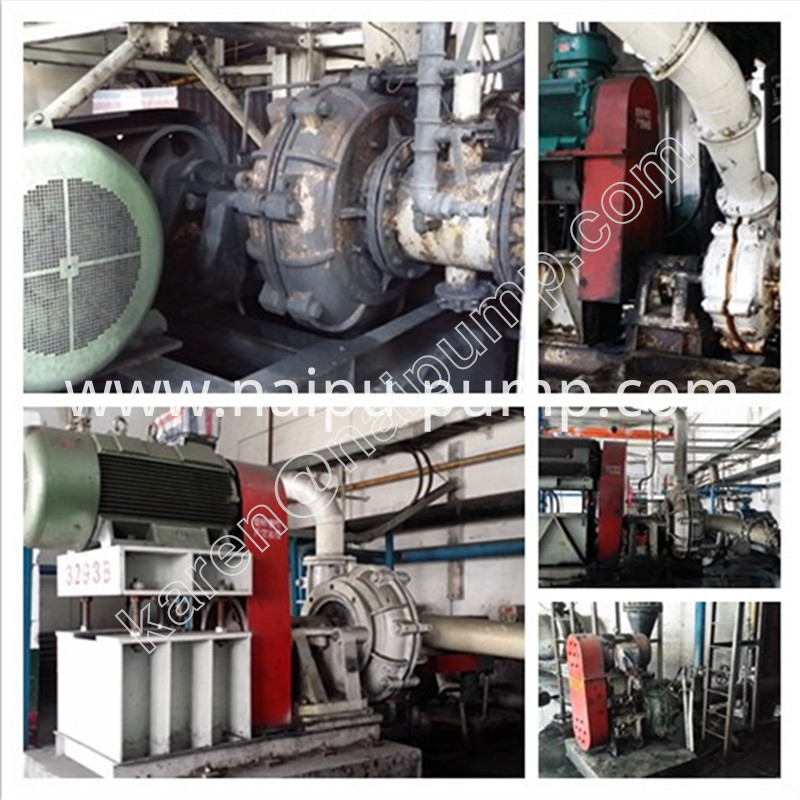 Contact US
Shijiazhuang Naipu Pump Co.,Ltd
Add:No.368 Xinshi North Road,Shijiazhuang Hi-Tech Industry Development Zone Hebei,China,050091.
Contact Person:Karen Tan
Skype: karen_naipump.
If you have any query about pumps, please don't hesitate to contact us.
Looking for ideal
Sand Gravel Pump
Manufacturer & supplier ? We have a wide selection at great prices to help you get creative. All the Gravel Dredging Pumps are quality guaranteed. We are China Origin Factory of Coal Washing Pumps. If you have any question, please feel free to contact us.
Product Categories : Horizontal Slurry Pump > G series Gravel Pump